Defford Event 2017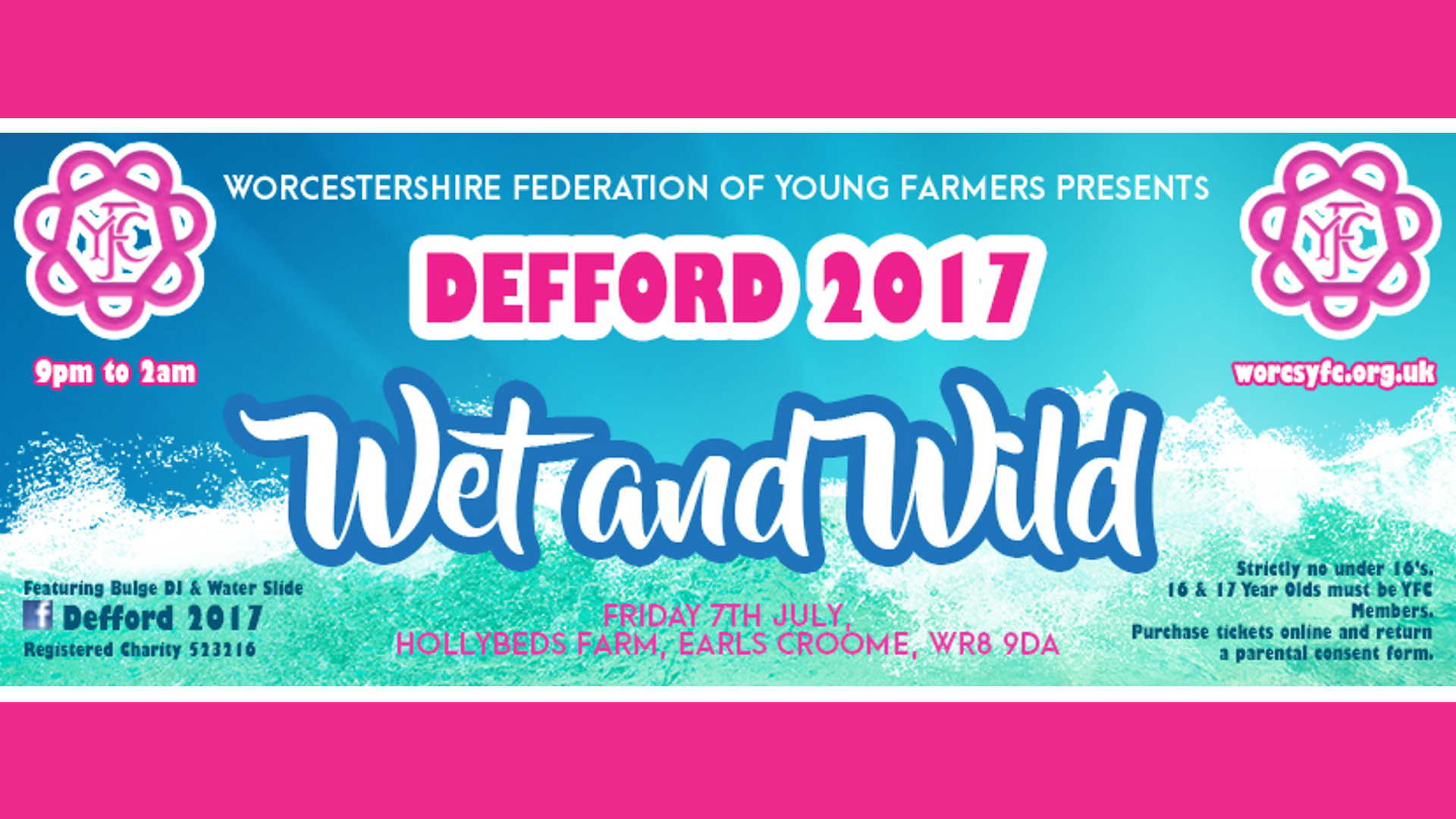 Worcestershire Federation of Young Farmers' Clubs annual Defford event returns once again to its usual location for 2017.

Friday 7th July 2017 will bring all of the usual excitement you have come to love with Worcestershire FYFC's open air event of the Young Farmers' year.

Our 'Wet and Wild' theme is sure to have some supprises for you, so come dressed to have a good time.

Come rain or shine our regular DJ Bulge and his impressive light and sound rig will keep the tunes flowing until the early hours.

The spectacular 'Miami' ride will be back again for those of you with a head for heights or a thrill for high-g speed.

Our dedicated bar and catering teams will once again be manning their stations and keeping everyone fed and watered.

Sure to be a night not to miss, check back on the page as we get closer to the event and we reveal more about the theme!

Important Infomation:
The event is open to all over the age of 18.
Tickets for Members aged 16 & 17 Only:
YFC members only aged 16 & 17 can attend once Parental Consent forms have been submitted via the online e-ticket system. Under 18 tickets are ONLY avaliable BEFORE the 30/06/17 - don't miss out.
Ticket sales for 16 &17 year old YFC members are now live using our new ticket sales system, visit; https://wfyfc.eventapp.eu/
Please note this link is ONLY for YFC members aged 16 and 17. DO NOT purchase tickets online if you are aged 18 or above. These tickets will be available on the door.
There will be NO tickets for under 18's avaliable on the door.
You will only be able to purchase tickets if your parental consent form corresponding to each ticket is uploded at the time of purchase. You can download the form here: [Defford Consent Form] You must scan or take a photo of page 2 of the parental consent form once complete and upload it during your ticket purchase.
As you complete the booking process an account will be created for you on our site, you will be emailed a password and then, once we have approved your tickets, you will be able to log back in and access your e-tickets.
Approval of tickets will take up to 48 hours. Please do not contact us until after this time has expired if you cannot access your tickets. You must print your e-tickets and bring them on the night.
You can purchase multiple tickets, but each ticket must have the details entered corresponding to the member that will be attending. On the night, this member must present his or her e-ticket and ID corresponding to the details entered with their booking and their parental consent form. If these to not match – NO ENTRY.
Swapping or resale of e-tickets is not permitted.
Ticket sales close at midnight on Friday 30th June.

Times:
Doors open at 9pm and the event finsishes at 2am.

Ticket Prices:
Over 18 tickets avaliable on the door only.
Before 10pm - Members £8, Non Members £10
After 10pm - Members £10, Non Members £15

Dress Code:
Casual
What ever you choose to wear, remember this is an open air event in a field, and whilst we would hope for some nice weather in July, it may get cold at night - especially if you are getting wet and wild, so please dress appropriately.

Payment Methods:
Please note we can only accept cash both on the door and at the bar.

WFYFC Terms and Conditions of entry are applicable and we reserve the right to refuse admission. No re-admission.