Welcome to our new County Chairman
Worcestershire FYFC's 74th Annual General meeting took place on Thursday 9th November 2017, at their County Office; Shires Farm, Hawford.
The meeting saw a packed room come to hear retiring chairman Will Parry's review of the year and to welcome in Chris Acock as the County Chairman for the 2017-2018 year. As well as the appointment of new officers the meeting was a chance to celebrate the year and the achievement of so many members and present awards to those who had made outstanding contributions as part of their year.
Chris a farmer and heardsman, who has been in YFC since 2012 has been a member of Upton upon Severn Young Farmers' Club and held numerous roles their before becoming involved at County level and taking on the role of vice-chairman last year. Chris was wished well by retiring Chairman Mr. Parry and handed the chain of office.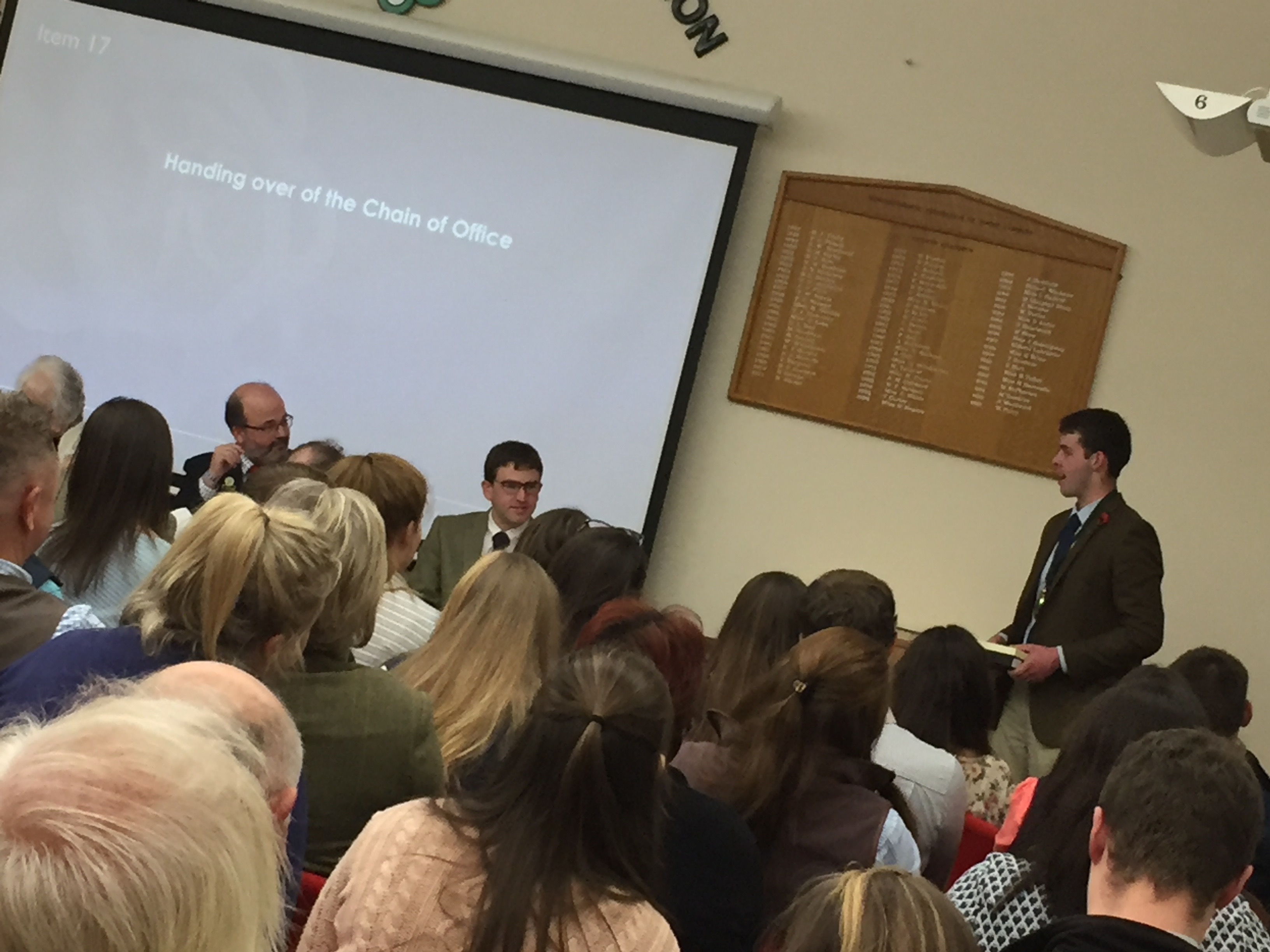 The meeting also awarded a Live-Vice Presidency to Mr. David Pardoe, who has been a long standing supporter of WFYFC, including being County Chairman twice and holding the role of building trustee for the Federation.
A great tribute to the Young Farmers' Clubs movement for this year was the calculation and announcement that among our 9 clubs in the County they raised and donated to other charities: £21,865.
Other awards made on the evening:
Club of the Year (Efficiency) Cup - Cutnall Green YFC
The Increased Membership Cup - Upton upon Severn YFC
The County Sports Shield - Upton upon Severn YFC
The Charity Trophy - Upton upon Severn YFC
Chairman of the Year - Rachel Gilder - Upon upon Severn YFC
Secretary of the Year - Lyndsey Jones - Bromsgrove YFC
Treasurer of the Year - Alice Bull - Inkberrow YFC
Junior Member Cup - Junior Members of Upton upon Severn YFC
The Rising Star Award - Chloe Potter - Abberley YFC
The Chairman's Cup - Tom Worthington & Sarah-Jayne Dunsby
Best Junior Member Cup - Aimie Parry - Tenbury Wells YFC
Best Intermediate Member Cup - Sophie Morgan - Upton upon Severn YFC
President's Cup - Will Parry (Retiring County Chairman)
County Championship Shield - Upton upon Severn YFC