Worcestershire members represted the federation with their offerings at the Farmers harvest Festival at Worcester Cathedral on Sunday 2nd October 2023.

We were entertained by our talented members!

WFYFC are ditching four wheels and will travel to the AGM in Blackpool by bicycle as they aim to raise £10,000.

Worcestershire YFC are gearing up for a marathon journey as they embark on a 200 mile cycle ride to Blackpool.
Young Farmers County Show celebrates 65 years
Over 300 Worcestershire Young Farmers members will be showcasing their talents at their 65th Annual County Show on Saturday 25th May.
"The County Show is the pinnacle of the Young Farmers competitions calendar," explains the 2013 Show Chairman, Tom Goodwin. "It's fantastic to be involved with the 65th Show; I've competed in over 15 of these events so it's a huge privilege to now to be at the helm of one!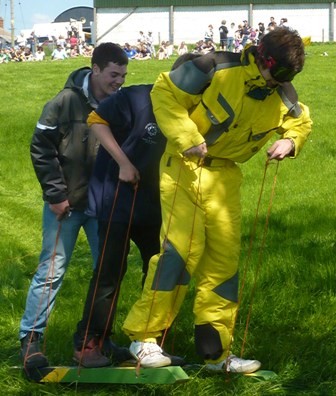 "The day will see nine Clubs from the County compete against each other in over 50 competitions such as cake decorating, tug of war and stars in your eyes." Tom adds: "We are returning to a previous show venue in Hanley Castle, and as an Upton upon Severn member it's great to have the show on home soil."
The event, organised entirely by volunteer members, is kindly being hosted by Richard Hudson at Mervale Farm, Hanley Castle, Worcestershire, WR8 0AA.
"The Show is open to the public from 9.00am and will conclude with prize giving at 5.00pm. Everybody is welcome to come and enjoy the many different events and stalls. There will be an all-day BBQ, as well as a licensed bar," notes Tom.
Tickets are priced at £5 for adults and children under 10 go free. There are competitions throughout the day and a new 'Young Persons Village' with a bouncy castle, sandpit and toys.
"We want to get future Young Farmers members involved in the day," explains Tom. "So we're putting competitions from 1.30pm for children under 10, these are open to everyone and prizes can be won."
For more information on this event please contact County Office on 01905 621617/07530877352 or check out the website www.worcsyfc.org.uk.